Picture books can be avenues to begin discussions of serious topics with intermediate and middle school students. As our country  honored those who were lost on September 11, 2001, I shared some picture books with our fourth graders to help them understand this historic event.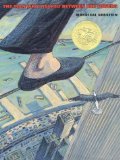 The Man Who Walked Between the Towers by Mordicai Gerstein (Roaring Brook Press, 2003) chronicles the building of the twin towers of the World Trade Center in 1974. When the buildings were under construction, Philippe Petit, a high wire performer, stretched a steel cable that was 5/8" thick from the roof of one tower to the other. On August 7, 1974, Petit stepped off of the south tower and performed for 45 minutes on the tightrope that was suspended ¼ mile from the sidewalk below.
Petit's performance was reported on CBS News.
Carmen Agra Deedy collaborated with Wilson Kimeli Naiyomah to write 14 Cows for America  (Peachtree, 2009), a touching story of the reaction of the Maasai people to the tragedy of 9/11. Nine months after it occurred, Kimeli, a Maasai warrior who had been studying in the United States, returned to his people in Africa. After hearing him tell about 9/11, the people of his tribe in Kenya presented fourteen of their precious cows to the American ambassador. The herd symbolizes hope and the respect and feelings that the Maasai felt for our loss.