They always say that time changes things, but you actually have to change them yourself.
Andy Warhol
This quote introduces Bonnie Christensen's outstanding book, Fabulous!: A Portrait of Andy Warhol (Henry Holt, 2011). Christensen explains to readers that Andy Warhol was the Prince of Pop, the King of Cool, and internationally famous when he was an adult. When he was growing up though, most people never would have imagined that he would become the artist that so many admire. Andy Warhola (his original name) lived with his immigrant parents in a two-room space where he shared one bed with his two brothers. When he was in third grade, Andy was very ill, and he spent hours drawing, reading Dick Tracy comic books, and dreaming of movie stars. Growing up was not easy for Andy, but he continued to draw and attended art school. Readers will be inspired by the strength and ingenuity that Warhol demonstrated as his art became recognized and acclaimed. Christensen's collaged photo transfers on canvas painted in oil illustrates this "fabulous" picture book biography that contains an informative author's note and time line.
Uncle Andy's (Putnam, 2003), written and illustrated by James Warhola, one of Andy Warhol's nephews, is a fine book to pair with Christensen's newer title. Warhola describes one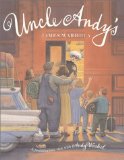 of the "faabbbulous" trips that his family enjoyed when they visited his famous relative. Andy Warhol's New York home was packed with collections and items that inspired him. The close-knit family enjoyed these family visits, and the author chronicles his uncle's influence on his own career as an artist.