"The Twelve Days of Christmas" is widely known because of the song that has been recorded by numerous performers throughout the years. These festive days begin December 25th and end on January 5th, and this time is called Christmastide or Twelvetide. While the tradition is rooted in Christianity, during the Middle Ages in England, the days were filled with feasting and merrymaking that ended with Twelfth Night. One of William Shakespeare's most famous comedies is named Twelfth Night and takes place during this festive season.
Many authors have written picture books based on this holiday song. Jan Brett's version was first published in 1986 (The Twelve Days of Christmas, Putnam), and the illustrations feature her characteristic style.
Irene Trivas came up with a delightful twist when she started off with the well-known lyrics in Emma's Christmas (Orchard Books, 1988). In her story, a prince woos Emma and resends her the previous days gifts. Trivas' sense of humor is evident when she describes the twelfth day: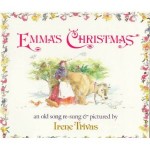 "And so it was that Emma and the prince, in the company of 12 lords, 22 ladies, 30 drummers, 36 pipers, 40 milking maids and their cows, 42 geese, 42 swans, 36 calling birds, 30 French hens, 22 turtle doves, 12 partridges, and Emma's father and mother, exchanged 40 golden rings and were very happily married."

There are two notable editions of this timeless song that were published in 2011. Laurel Long describes the origins of the verse in The Twelve Days of Christmas (Dial). Her beautiful oil paintings contain elements of the religious roots to the song.
Jane Ray's version, The Twelve Days of Christmas (Candlewick Press), is set in the 1920s, and her mixed-media illustrations are colorful and detailed. Readers will enjoy spotting the shy "true love", and they will delight in the clothes and decorations of the era.