Eric Kimmel is a talented author who has written many books. He is one of the few authors who creates entertaining books to share with elementary school children during Hanukkah. His newest adaptation of The Golem's Latkes, is as engaging as his previous works. He tells the story of Rabbi Judah Loew ben Bezalel who leaves his Golem with a new housemaid. All is well when Basha stays with the Golem. She goes to visit friends when Golem is making latkes. The Golem never knows when to stop, and when he isn't ordered to do so, disaster strikes. Young readers will enjoy this tale of too many latkes; it may remind them of Tomie DePaola's book, Strega Nona.
Kimmel's other Hanukkah books are just as delightful. An elderly woman mistakes a hungry bear for her rabbi in The Channukah Guest. Jacob is swindled out of special dreidels in The Magic Dreidels. Hershel helps a village that is haunted by goblins who won't allow them to celebrate Hanukkah in Hershel and the Hanukkah Goblins.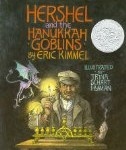 Do check out Eric Kimmel's books whatever the season!