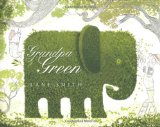 When my boys were young, there were some special books that they read at their grandparents' homes. We didn't own these books at our house or take them out from the library. They were special titles that they only shared with their grandparents. Lane Smith has written and illustrated a book that grandparents should share with their grandchildren – Grandpa Green (Roaring Brook Press, 2011). Great-Grandpa Green's garden represents the highlights of his life, even if he might not remember them too well anymore. His great-grandson learns about aging, love, and family stories through Grandpa Green's topiaries.
There is a wonderful trailer to the book on youtube.
Lane Smith has been known for years as a versatile illustrator whose work accompanies the writing of many authors. His most notable collaborations have been with Jon Scieszka in The Stinky Cheese Man (Caldecott Honor), The True Story of the 3 Little Pigs, Math Curse, and Science Verse.  As an author and illustrator, his interests range from history with John, Paul, George & Ben to technology in It's a Book to poignancy and family in Grandpa Green.
To learn more about Lane Smith and his work, do check out his website.
Have your children share this book with their grandparents or adopt some grandparents to learn their stories!