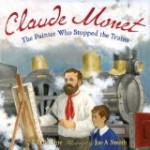 There have been notable children's books published about the painter, Claude Monet. P.I. Maltbie's text is paired with Jos. A. Smith's illustrations in Claude Monet: The Painter Who Stopped the Trains (Abrams Books for Young Readers, 2010). This title is focused on a specific period of Monet's work, from 1876 to 1877 when he produced his series of pictures of the Gare Saint-Lazare train station. Monet's idea of featuring city scenes in and around Paris was innovative and controversial at the time. From January to March of 1877, the trains were sometimes delayed so that Claude Monet could capture the light and scene.
Two titles that were previously published still captivate children when they are studying this important artist. What Makes a Monet a Monet? published by the Metropolitan Museum of Art (1993) discusses the color, shape, composition, brushwork, and subject matter that characterizes Monet's work.
My favorite children's book about any artist is still Linnea in Monet's Garden by Christina Bjork with illustrations by Lena Anderson (R&S Books, 1985). The young reader discovers the genius of Claude Monet right along with Linnea.