In 1996, the Academy of American Poets first recognized April as National Poetry Month. While we celebrate poetry in school throughout the year, there is special emphasis on it this month. I would like to share some of our newer or favorite poetry books this month. Let the poetry begin….
There are two books that were published within the past year that just begged to be paired with each other, I Am the Book and BookSpeak!.
I Am the Book has poems selected by Lee Bennett Hopkins and is illustrated by Yayo (Holiday House, 2011). Here is one selection from the volume.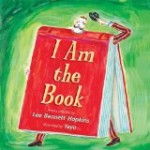 When I Read
Beverly McLoughland
When I read, I like to dive
In the sea of words and swim,
Feet kicking fast across the page
Splashing words against my skin.
When I read, I like to float
Like the gull that trusts the sea,
The ebb and flow of tidal words
Easy under me.
Check out this trailer about BookSpeak! Poems About Books by Laura Purdie Salas, illustrated by Josee Bisaillon (Clarion Books, 2011).

For more information about poets and poetry, do visit the website of The Academy of American Poets.