A man has to have goals – for a day, for a lifetime – and that was mine, to have people say, "There goes Ted Williams, the greatest hitter who ever lived."
–    Ted Williams
It can be tough being a baseball fan when one's favorite team struggles. Boston Red Sox fans understand that feeling better than most baseball fans. Until 2004 and again in 2007, Red Sox teams hadn't celebrated a World Series win since 1918. Throughout those disappointing years though, there were outstanding players to celebrate, and the best was Ted Williams.

Author/illustrator Matt Tavares idolized Ted Williams as he was growing up, and he listened to his father's stories about this Red Sox slugger. He created a picture book biography entitled There Goes Ted Williams: The Greatest Hitter Who Ever Lived (Candlewick Press, 2012). The story of Ted Williams' success is legendery. He set innumerable records, even though his career was interrupted by World War II and the Korean War. Baseball fans of all ages will enjoy reading about Ted Willams' dedication and desire to reach his goals. Tavares included further insight in Ted Williams' personality in his Author's Note.
Another book that focuses on Williams' batting average record is No Easy Way: The Story of Ted Williams and the Last .400 Season by Fred Bowen, illustrated by Charles S. Pyle (Dutton Children's Books, 2010).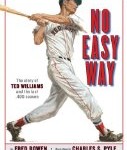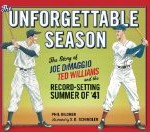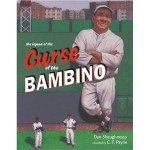 The Red Sox and New York Yankees are inexplicably bound together throughout baseball history. Phil Bildner's title, The Unforgettable Season: The Story of Joe DiMaggio, Ted Williams and the Record-Setting Summer of '41, illustrated by S. D. Schindler (Putnam, 2011) demonstrates that connection. An older title that shouldn't be missed is The Curse of the Bambino by Dan Shaughnessy (Simon & Schuster, 2005).