It is always great fun to pair books to share with our students, and two of our new books go together perfectly. Steve Jenkins' books (Actual Size and Sisters and Brothers to name just two) are great favorites with children and adults. One of his newest creations can be added to the list of highly circulated books. The Beetle Book (Houghton Mifflin, 2012) is a science book with simple text that describes dozens of colorful drawings of beetles. I'm not much of a bug fan, but I am fascinated by the colors, designs, and complexities of the beetles that Jenkins introduces. I can only imagine how interesting this book will be to budding young entomologists.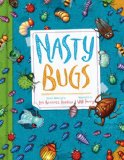 Nasty Bugs, poetry selected by Lee Bennett Hopkins, illustrated by Will Terry (Dial, 2012) is a natural companion to Jenkins' book.
Here is the beginning of the beetle poem by X.J. Kennedy.
Colorado Potato Beetle
His other name's Potato Bug.
This munching desperado
Infests our gardens coast to coast,
Not just in Colorado.
Ten stripes of black run down his back.
He wiggles orange legs,
And what is wonderful, his wife
Can lay six hundred eggs…..