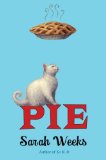 Pie by Sarah Weeks (Scholastic, 2011) is one book that I confidently recommend to many of my intermediate readers. This novel has humor, a misunderstood protagonist, and just enough of a mystery to keep the reader turning the pages.
Alice Anderson loved her Aunt Polly, and it wasn't because Polly made the best pies in town at her bakery, Pie. More important than that was that the pie shop was "…a home away from home, a safe place where she could truly be herself." No one ever paid for a pie at Aunt Polly's shop, but they expressed their appreciation by leaving gifts of pie ingredients. The pie shop was known far and wide for the delicious pies and exceptional piecrust.
Alice was as baffled as her parents and the rest of the town when Aunt Polly's lawyer read her will. Aunt Polly left her secret piecrust recipe to her beloved cat, Lardo, and she left her beloved cat, Lardo, to Alice.
This book is scrumptious, and so are the pie recipes that begin each chapter!