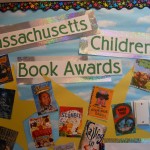 It's fun to pair some of the titles and make comparisons and contrasts within the MACBA nominees. There are two  that beg to be discussed together – Turtle in Paradise by Jennifer L. Holm (Random) and Moon Over Manifest by Clare Vanderpool (Random). These also happen to be titles about which I have been raving to anyone who will listen. Both novels are set during the Depression years, the main character is sent off to unfamiliar relatives/friends, there is only one custodial parent, and she has to figure out how to navigate her new relationships and surroundings. Both protagonists, Turtle and Abilene, are feisty girls who are intelligent and introspective.
Turtle in Paradise can be enjoyed on more than one level. Some of our intermediate readers have just enjoyed the plot. I have had some great conversations with other readers who are intrigued by Turtle's mother's decisions and the relationships between the characters. Those readers want to talk about how they imagine the story continued after the last chapter.
Check out Jennifer Holm's website and Brian's post about Turtle in Paradise over at Helping Readers Love Reading. He has pictures of the areas of Key West that appear pretty similar to those described in the book.
It is 1936, and Abilene Tucker isn't happy that her father sent her off to strangers in Manifest, Kansas. She is sure that she won't be staying there for long, but she is intrigued by the items that she finds in a hidden box. An elderly recluse, Miss Sadie, begins a story from 1918, and Abilene finds that tale entangled with her own identity.
Clare Vanderpool describes where her idea for the novel originated on her website.
Russell Freedman's book, Children of the Great Depression (Clarion), features memoirs, diaries, and letters to depict the conditions that children faced while growing up during the Depresssion.