Once again, two picture book biographies about the same person were released within months of each other by different authors and publishers. The subject of these two stellar creations is Florence Mills, a star of the Harlem Renaissance.
There are no known recordings of Florence's voice, nor are there any films of her performances. Yet, this entertainer influenced talented musicians with her talent and spirit. Duke Ellington's composition, "Black Beauty", is a tribute to her.
Florence began performing at a very young age for pleasure, and it was a bonus that the money she made helped to support her financially struggling family. Through her dedication and work ethic, she honed her musical skills and became much sought after as a performer. Despite the injustices of segregation, Florence went on to gain international success.  When she died in 1927, at the age of 31, five thousand people were in the church and thousands stood outside to pay tribute to this remarkable woman. Baby Flo is still remembered as "Harlem's Little Blackbird".
(Image from www.wikipedia.org)
Harlem's Little Blackbird: The Story of Florence Mills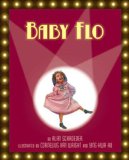 Baby Flo: Florence Mills Lights Up the Stage by Alan Schroeder, illustrated by Cornelius Van Wright and Ying-Hwa Hu (Lee & Low, 2012)