Many young readers are inspired when they first learn about Helen Keller and her teacher Annie Sullivan. Their lives were inspirational for both blind and sighted people. Annie Sullivan's commitment to reaching Helen, a young child who could neither see nor hear, became a model for others.  She first reached Helen by teaching her sign language, so that Helen could make sense of her world. After that came Braille, writing block letters, and putting her hands on people's lips to lip-read. Because of Sullivan's work, Helen went on to become an author and speaker who traveled the world.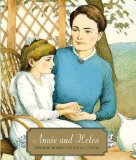 Annie and Helen by Deborah Hopkinson, illustrated by Raul Colon (Schwartz & Wade Books, 2012) depicts Helen's childhood from her early year's and her work with Annie as a young child. There are entries from Sullivan's journal that describe her thoughts as she brought her student out of darkness.
The word coming so close upon the sensation of cold water rushing over her hand seemed to startle her. She dropped the mug and stood as one transfixed. A new light came into her face.
Annie Sullivan, April 5, 1887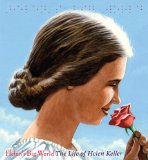 Helen's Big World: The Life of Helen Keller by Dorreen Rappaport, illustrated by Matt Tavares (Disney/Hyperion Books, 2012) tells the entire story of Helen Keller's life. Each page is complimented by quotes from this remarkable woman.
I have the advantage of a mind trained to think, and that is the difference between myself and most people, not my blindness and their sight.
Helen Keller
Do check out this rare footage of Annie Sullivan with Helen Keller.