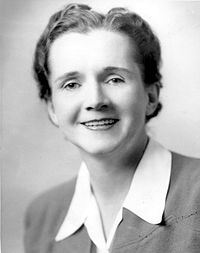 In 1962, Rachel Carson caused an uproar when her book, Silent Spring, was published. The New Yorker published excerpts of the ground-breaking title, and Houghton Mifflin was the publisher. Both companies faced lawsuits from major chemical companies and several government agencies. These battles raged for years, but the book became an immediate best seller all over the world.
(Photo from Wikipedia.org)
Rachel Carson's inspirational life is chronicled in many books for children. Our newest one is Rachel Carson and Her Book That Changed the World by Laurie Lawlor, illustrated by Laura Beingessner (Holiday House, 2012). When she was young, this budding naturalist enjoyed going to the woods and observing birds and nature. Rachel Carson went on to study science at Pennsylvania College for Women  and was one of few women to earn her Master's Degree at John Hopkins University. Rachel worked for the rest of her life to raise awareness of environmental issues.