In July 2007 a rare baseball card
was sold at auction
for almost three million dollars.
The player on the card
was hatchet-faced, bandy-legged,
and arguably the most famous shortstop
baseball has ever known.
His name was Honus Wagner.
This is his story.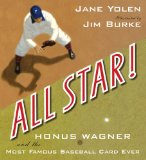 Thus began author Jane Yolen in her book, All Star! Honus Wagner and the Most Famous Baseball Card Ever, illustrated by Jim Burke (Philomel Books, 2010). Honus Wagner went from being a coal miner to becoming one of the most popular baseball players in history. During his playing years, baseball cards were sold in cigarette packs. Because he was concerned with being a role model for his young fans, and he didn't smoke, he had the cards pulled off the market. A few had already been sold, and these went on to be highly sought after by fans. Honus Wagner was one of the original five men inducted into the Baseball Hall of Fame.
Intermediate readers might enjoy Honus & Me by Dan Gutman (Avon, 1997). Gutman's baseball series takes readers back to the time of the player on the collected baseball card.