A is for America's Most Beloved Ballpark
For baseball lovers everywhere
the experience they want to share
is Fenway's magic and mystique,
which make this classic park unique.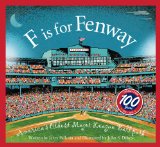 The Boston Red Sox have played at Fenway Park since 1912. Fenway is the oldest Major League Baseball stadium that is still in use. In 2012, the organization and fans celebrated the centennial of this beloved ballpark.
Jerry Pallotta has written dozens of alphabet and counting books. F is for Fenway illustrated by John S. Dykes (Sleeping Bear Press, 2012) is one of his best for readers of all ages who live in New England. Pallotta adds interesting facts on each page that describes the particular letter. An example of this is the page for N. The author lists all of the retired numbers and includes interesting information about the players who are honored.
To relive one of the glory years for the team, check out this ESPN video on the 2007 World Series.