Cautious, careful people never can bring about a reform.      Susan B. Anthony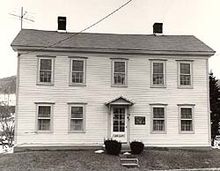 Having grown up in North Adams, I was always fascinated when my family drove past the house on East St. in Adams, MA where Susan B. Anthony was born. It was inspiring to me to think that a woman who was born in my area of western Massachusetts went on to be such a leader in the women's suffrage movement in the 1800s.
In 1826, Susan B. Anthony's family moved to the state of New York so that Susan's father could manage a factory that manufactured cotton. That is where Susan grew up and became a life-long reformer. Even as a young girl, she identified injustices. The first was when a male teacher refused to teach the girls in his class mathematics because he believed that certain school subjects were too hard for a girl to learn. In her early career, Susan became a teacher herself. After a few years, Susan left her teaching job so that she could speak to many people about women's rights.
Susan B. Anthony by Alexandra Wallner (Holiday House, 2012) is a picture book biography that introduces this interesting woman to younger children.
Elizabeth Cady Stanton and Susan B. Anthony: A Friendship That Changed the World by Penny Colman (Henry Holt, 2011) is a biography for our mature readers.