(1930-2013) Elaine Lobi Konigsburg is known to our Fourth Graders as E. L. Konigsburg, the beloved author of From the Mixed-Up Files of Mrs. Basil E. Frankweiler. Her books have been honored with Newbery awards by the Association for Library Service to Children, a division of the American Library Association. The Newbery Medal is awarded annually "to the author of the most distinguished contribution to American literature for children". Konigsburg is the only author who has received the Newbery Medal and a Newbery Honor in the same year. In 1967, she received the Newbery Medal for From the Mixed-Up Files of Mrs. Basil E. Frankweiler and Jennifer, Hecate, MacBeth, William McKinley, and Me, Elizabeth was an honor book. She was honored with the Newbery Medal again, in 1997, for The View from Saturday.

Konigsburg made many of her main characters 12 years old. In an interview with Leonard Marcus in Talking with Authors, she said, "Because it is at that age that the serious question of childhood is asking for an answer. Kids want acceptance from their peers, but in two different, opposing ways: They want to be like everyone else and they want to be different from everyone else. So the question is: How do you reconcile these opposing longings?"
How fortunate we all are that this woman, who received a degree in chemistry at Carnegie Mellon University, decided to write children's books as her own children began school!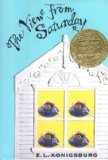 (Photo of the author taken from Publishers Weekly)