Every child is an artist. The problem is how to remain an artist once we grow up.  Pablo Picasso
Pablo Picasso's father, Don Jose Ruiz was an art teacher and painter who was so impressed with his son's work that he laid down his brushes. Don Jose said that he was abandoning his own art because his son had more talent than he had. When he was in his teens, Pablo Picasso's style echoed the work of other French artists like Toulouse-Lautrec, Gauguin, and Monet. As an adult, he developed his own styles (The Blue Period, The Rose Period, Cubism, Surrealism) for which he is now known.
Just Behave, Pablo Picasso! by Jonah Winter, illustrated by Kevin Hawkes (Scholastic, 2012) shares events about the famous artist from his childhood through his twenties. Despite harsh criticism, Picasso persevered to perfect his own style in paintings, drawings, prints, and sculptures.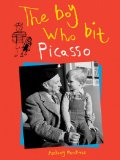 Tony Penrose grew up with Pablo Picasso as a family friend. His father, Sir Roland Penrose was an artist who often visited back and forth with Picasso. In The Boy Who Bit Picasso (Abrams, 2010), Tony shares his childhood memories of this remarkable artist. He includes photographs taken of Picasso by his mother, the famous photographer Lee Mill. Penrose also includes images of drawings that Picasso made especially for him.
Other books in our collection about this genius include Picasso: A Day in His Studio by Veronique Antoine (Chelsea House, 1993) and Picasso by Mike Venezia (Children's Press, 1988).
Photo of Pablo Picasso taken from Wikipedia.org.