Looking into the eyes of a wild dolphin – who is looking into mine – inspires me to learn everything I can about them and do everything I can to take care of them…You can't care if you don't know.                                  Sylvia Earle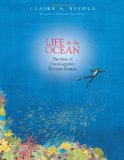 When she was a young child, Sylvia Earle went off on her own observing nature in the woods and pond near her home. Her family moved to Florida when she was twelve years old, and there she began her "investigations" in the water along the Gulf of Mexico. Once Sylvia got swim goggles and a snorkel, she marveled at the life in the water and yearned to learn about it. Her curiosity about the ocean extended into her adult life as a marine biologist and  chief scientist of the National Oceanic and Atmospheric Administration.
Sylvia has walked on the ocean floor in an aqua suit, lived for two weeks in a deep-sea laboratory off the U.S. Virgin Islands, descended 3,000 feet in the Pacific Ocean in a one-person spherical bubble that she helped to design, and plunged to 13,000 feet underwater in a Japanese submersible. Her mission in life is to protect our oceans and foster understanding and research in them.
Life in the Ocean: The Story of Oceanographer Sylvia Earle by Claire A. Nivola (FSG, 2012) is a delightful introduction to this inspirational woman.