Many of our younger readers are fans of Mo Willems' books. They might not be able to name Willems specifically, but they will certainly tell you about the exploits of Knuffle Bunny, Pigeon, and Elephant and Piggie.
Willems is a talented author/illustrator who worked as a writer and animator for Sesame Street. While he was at PBS, he received six Emmy Awards for his writing. Once he turned his focus to children's books, he has been awarded for his talents in that field too with three Caldecott Honors.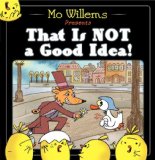 One of Willems latest picture books, That Is Not a Good Idea! (Harper & Collins, 2013) is quickly becoming a favorite. A hungry fox lures a plump goose to his den and kitchen. Along the way, the story is interrupted by a young gosling suggesting that it is "…NOT a good idea." The surprise ending causes chuckles and demands for another reading. The simple pencil and watercolor illustrations are pure Willems.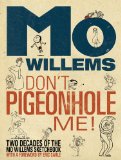 For our older readers and artists, Willems' newest book is Don't Pigeonhole Me! (Disney, 2013). In this volume, Mo shares two decades of his personal sketchbook.
Check out this interview on the Today Show.
Willems' website is fun for the whole family. http://www.mowillems.com/