There are some authors who are standouts in the field of literature for children and young adults. Nic Bishop is one of these unique individuals, and his contributions to the non-fiction genre for young readers are extraordinary.
Because of his father's work, Nic Bishop's childhood involved a great deal of travel and living in a variety of cultures. This upbringing fed his curiosity about his world which Bishop further explored through his interest in photography. He started taking pictures of nature when he was nine years old. As he grew up, his adventures and education continued to take him to interesting and remote locations. While he started his writing career as an adult author, his transition to books for children was a gift to all of us who discover his work.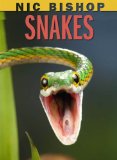 Bishop's latest book, Snakes (Scholastic, 2012), is a favorite among our budding scientists; the cover alone immediately attracts them.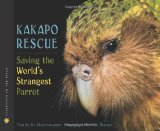 One of my personal favorites is Kakapo Rescue: Saving the World's Strangest Parrot (Houghton Mifflin, 2010). He collaborated on this with Sy Montgomery who wrote the text. They share the story of the ninety-one birds on Codfish Island off the coast of New Zealand.
If you are interested in how he takes his phenomenal photographs, do check out this video where he discusses his work on Spiders (Scholastic, 2007).

His website provides interesting information about his life and work.
http://www.nicbishop.com/