Silent Star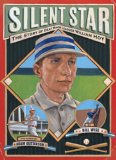 As many baseball fans enjoy post-season play, it's a perfect time to introduce children and adults to William Ellsworth Hoy (1862-1961), one of the few deaf players ever to succeed in the major league. His amazing story of talent, persistence, and courage is chronicled in the picture book biography, Silent Star: The Story of Deaf Major Leaguer William Hoy (Lee & Low, 2012).
William Hoy was able to hear during his earliest years, but when he was three, he lost his ability after he suffered with meningitis. Growing up deaf during the 1860s was difficult for him because there was little sensitivity to his condition. When William was ten years old, life opened up for him when he attended the Ohio School for the Deaf. His education broadened as he learned sign language, how to read lips, and he got to play on the school's baseball team.
After graduation, Hoy became a successful shoemaker, even buying his own shop where he was able to build a baseball diamond for local teenagers to play with him. That was where an amateur league coach discovered him, and his dream to play professional baseball began to seem possible. William was such a solid player that the following year he made it to the minor leagues with the Oshkosh club.
One of Hoy's biggest obstacles was that he couldn't hear if the umpire called a pitch a ball or strike when he was at bat. He needed to turn around, and the umpire repeated his call. Opposing pitchers began to quickly thrown to him before he could settle himself in the batter's box for the next pitch. This caused him to struggle at bat. Between seasons, William devised a plan to work around this challenge when he worked out a plan for the third base coach to indicate the umpire's calls with a hand signal. He was on his way to the majors.
William Hoy played for the National League team, the Washington Nationals, for fourteen years. William Ellsworth "Dummy" Hoy's statistics rank him with the top twenty-five players who have ever played major league baseball in the areas of stolen bases, assists by an outfielder, and double plays by an outfielder. Yet, he still is not honored in Cooperstown in the Baseball Hall of Fame.
In 2008, on the day that the Phillies won the pennant, they honored William "Dummy" Hoy at Deaf Awareness Day.