There are specific awards for children's literature that are important to watch. The obvious two are the Caldecott Award and the Newbery Award, which are announced in January. Another important award announcement is made in the fall, and that is the Boston Globe-Horn Book Award list. These awards have been given annually since 1967, and they recognize books in three categories: picture book, fiction and poetry, and non-fiction.
This year's Boston Globe-Horn Book winners are outstanding selections. The winner in the picture book category is Building Our House by Jonathan Bean (FSG, 2013). The author chronicles the experiences that his family had while constructing their own home. He tells this charming story through the eyes of a young narrator. The family buys land and moves to the country, and they begin their year and a half long construction project. There are subtle side stories that are told through the illustrations, like Mom's pregnancy and the addition of another family member. The book is a gem.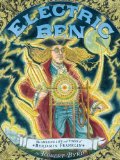 The winner in the non-fiction category is Electric Ben: The Amazing Life and Times of Benjamin Franklin by Robert Byrd (Dial, 2012). Byrd produced a colorful volume for our intermediate and older readers that chronicles the life of one of our most interesting Founding Fathers. Franklin's wit and wisdom has stood the test of time; it is as pertinent today as it was over two hundred years ago.
For a complete list of the present and past winners, be sure to visit The Boston Globe – Horn Book site.