In April of 1939, Detective Comics #27 was sent to newsstands across the country. Little did the purchasers of this comic book know that this issue would later be worth thousands of dollars. This was the issue that introduced Bat-Man (later changed to one word, Batman), "…a hero who looked like a villain, a vigilante who was also a detective."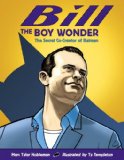 While Batman had a secret identity, until recent years, so did his co-creator, Bill Finger. Bob Kane has always been the cartoonist who is credited with developing Batman. In Bill, the Boy Wonder: The Secret Co-Creator of Batman illustrated by Ty Templeton (Charlesbridge, 2012), author Marc Tyler Nobleman shares the story of Bill Finger's contributions. Through the years, many cartoonists and comic book historians have unearthed facts that support that many of the ideas and plot lines from the very beginning were the creation of Bill Finger. Bill had agreed to be a silent partner, and his estate doesn't receive the same royalties from all of the Batman spinoffs that Bob Kane's estate receives. To recognize his many contributions to the Batman phenomena, The Bill Finger Awards for Excellence in Comic Book Writing are presented to honor comic book writers.
Do check out the Batman that I grew up with – the tv show starring Adam West as Batman and Burt Ward as Robin.