One of my favorite authors to share with children is Patricia Polacco. She writes from her heart directly to her readers' hearts. This is certainly the case with her holiday themed books.
Many of Polacco's stories are based on her own family's stories and background.When Patricia was a child, her parents were divorced. She spent the school year living with her mother and summers with her father. Her mother's family celebrated Hanukkah, and one of Patricia's masterpieces is The Trees of the Dancing Goats. In this poignant tale, the author tells about a year when her family demonstrated the true meaning of giving when they made Christmas happen for their neighbors.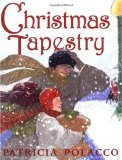 Another of Polacco's tales that transcends both Hanukkah and Christmas is The Christmas Tapestry. In this book, the author shares the story of a minister and his family who revitalize a crumbling church. Just before Christmas, they buy a tapestry to hang in the sanctuary. When they share a wintery ride with an elderly woman, they are reminded of the persecution that others experienced during WWII because of religion.
In the following clip, Polacco talks about listening to her family stories.