There is a very thin line that authors try not to cross when they write a picture book that has a moral to the story. The lesson needs to be obvious enough to their intended audience without being didactic and figuratively hitting the readers over the head to make their point. Pat Zietlow Miller and Trudy Ludwig have produced picture books that demonstrate that concept.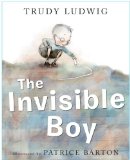 Trudy Ludwig tackles the feelings of a child who feels left out and without friends in The Invisible Boy, illustrated by Patrice Barton (Knopf, 2013). Her protagonist, Brian, is picked last, or never picked for a team. He isn't invited to birthday parties, and he sits alone at lunch, but Brian is a wonderful artist. When a new boy, Justin, joins his class, Brian reaches out in friendship to him. Justin, who becomes popular with the other children in the class, doesn't forget this small gesture. When Justin includes Brian in a project, the other children notice Brian for the first time. Patrice Barton's illustrations depict Brian in black and white while all of the other children are in color. When Justin befriends him, Brian begins to appear in color.
Bully by Laura Vaccaro Seeger (Roaring Brook Press, 2013) tackles bullying by using animals. A small bull is treated badly, and he then lashes out at the other animals by calling them names and making them feel bad. With each insult that he launches, he grows in size until the illustration has him extend right off the page. The children, with whom I have shared the book, initiated a discussion of why he enlarged and talked about feelings. There are few words in this picture book, and the children spontaneously read the words, as do the readers in the following video.