There have been a plethora of new books published recently about animals and birds. While some of them target our youngest readers, others are wonderful to share with our intermediate and older readers.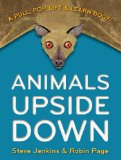 It's no surprise that I am excited about a new "Pull, Pop, Lift & Learn Book" for our young budding scientists. Animals Upside Down is the production of Robin Page and Steve Jenkins (Houghton Mifflin Books for Children, 2013). I always recommend any book that has artwork by Steve Jenkins, and this is no exception. As is described on the back of the book, "Turn wheels, pull tabs, lift flaps, and open doors to reveal twenty-six different animals and discover the many remarkable ways that going bottoms-up helps them to survive!"
The Long, Long Journey by Sandra Markle, illustrated by Mia Posada (Millbrook Press, 2013) is subtitled The Godwit's Amazing Migration. These long-billed and long-legged birds fly the longest nonstop bird migration that has ever been recorded. They are born in Alaska where they spend the summer learning to fly, finding food, and escaping predators. In October, the godwits fly over 7,000 miles to New Zealand.
Our intermediate and middle school readers may want to check out The Dolphins of Shark Bay by Pamela S. Turner, with photographs by Scott Tuason (Houghton Mifflin Books for Children, 2013). The Shark Bay Dolphin Project has been in existence for over twenty-five years; the scientists involved have recorded the habits of hundreds of wild dolphins. They want to know why dolphins can learn simple languages, recognize themselves in mirrors, understand gestures such as pointing, and mimic vocally.