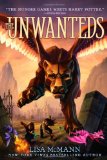 When the first reviews for The Unwanteds came out in professional journals for librarians, they were positive enough that I knew that I should buy the first book of the series for DCD. The review in Kirkus described The Unwanteds (Aladdin, 2011) as "The Hunger Games meets Harry Potter." Before I read the first book in Lisa McMann's series, I thought that seemed like a bit of an overstatement to sell the book. Eric Norton's recommendation in School Library Journal was toned down but still very positive when he wrote, "This is a good starter fantasy or dystopia without the darkness in titles for older readers." Neither of these reviews do justice to McMann's series, and the buzz that it has created among our intermediate readers. The Unwanteds is one of the Massachusetts Children's Book Awards' Honor Books for 2014.
Lisa McMann challenges her readers with her society of Quill where thirteen-year-olds are sorted into categories. The Wanteds are the elite, and they will go off to the University. The Necessaries will also be saved to work for the good of the society. The rest of the thirteen-year-olds will be The Unwanteds, and their fate is to be eliminated. When twin brothers receive different verdicts, Aaron becomes a Wanted and Alex is an Unwanted. Alex and the rest of the Unwanteds face their deaths, until they meet Mr. Today.
McMann further develops her tale in Book Two: Island of Silence, and Book Three: Island of Fire. Our readers are clamoring for these titles and eagerly awaiting Book Four: Island of Legends which will be published in September 2014. Adults should give themselves a treat and read the series too!