Jack Gantos is an author whose books span generations since he writes picture books and fiction for intermediate, middle school, and adult readers. In 2012, he was awarded the Newbery Medal for his novel, Dead End in Norvelt. This is one of the choices that our middle schoolers have for their optional summer reading.
In Dead End in Norvelt, Gantos combines tales of a bit of his own childhood with outrageous invention. Norvelt, PA does exist as one of the planned communities that were built in the 1930s. There were 1850 applications for the 250 homes, and the first residents were a representative population for that area of the country. The author did grow up in Norvelt, and he did write about some of his own experiences. The reader can only wonder which parts of the book are real and which come out of Gantos imagination.
The plot hinges on Jack being loaned to an elderly neighbor because he was "grounded for life". It certainly felt that way to a young boy who was looking forward to a carefree vacation. And…this feisty old woman writes obituaries about the original settlers of Norvelt. Miss Volker begins to suspect that too many elderly residents are prematurely dying, and she enlists Jack's help to check out her suspicions.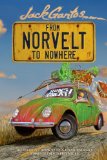 Gantos continued his outrageous tale in the sequel, From Norvelt to Nowhere. This author's fans are glad that he did!