Our fourth and fifth graders are avidly reading various books that have been nominated for this year's Massachusetts Children's Book Award (MACBA). This voluntary reading program was started by Dr. Helen Constant in 1975, and it is administered through Salem State University. Twenty-five books are nominated for the award, and our voting for the DCD favorites will take place in late winter.
There are many obvious benefits to reading along with us for the next few months. Students are often introduced to authors who are unknown to them before this, and they return looking for other books by them. Some of the authors, like Patricia MacLachlan and Rick Riordan, are already favorites of many intermediate readers. An important benefit that may not be obvious is that our readers become critics. They learn how to evaluate literature through plot, characters, and interest, and they have fun doing so. Throughout the next few months, I'll highlight some of the nominated titles. Links to the reading lists and our required journal pages can be found on our DCD Library page.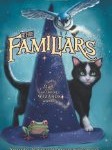 Adam Jay Epstein and Andrew Jacobson are two authors who may be new to most readers, but they might soon be favorites. They have co-written The Familiars Series, and the first book in that series, The Familiars (Harper, 2010), is one of this year's nominees for the MACBA. These two friends have created a magical world that entrances many readers. Their characters, their familiars, are magical animals who are chosen by young wizards in training. However, Aldwyn isn't a magical familiar; he is an ordinary cat who has wandered into the unusual pet store. Aldwyn and the extraordinary pets must work together when their young wizards are captured by the evil queen of Vastria.
The Familiars website is both informative and entertaining. Readers can get to know the authors, learn more about the characters, and find out what kind of familiar they might be. When I took the quiz, I was designated as a "Protector of the Land", perhaps a raven.
The authors' video gives us a taste for their sense of humor.