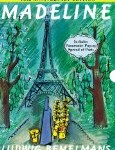 This year marks the 75th anniversary of the publication of the popular picture book, Madeline, by Ludwig Bemelmans. The New York Historical Society is celebrating the occasion with an exhibit on the precocious character and her author.
Ludwig Bemelmans lived a full life, not only as an artist and author, but also as a novelist, essayist, and humorist. Born in Austria, he moved to the United States in 1914 where he worked in hotels. When the United States entered World War I, Ludwig enlisted in the Army and became a US citizen. When the war was over, Bemelmans returned to his work in hotels and restaurants.
This talented artist didn't begin writing until he was 36 years old, when he wrote his first picture book. Readers of all ages are certainly thankful that he did. The character of Madeline is named after his wife and modeled after his daughter. Bemelmans created fifteen books for children, and this mischievous heroine is still the most popular.
Bemelmans contributed his writing and art to many periodicals, most notably, The New Yorker, where he drew many cover illustrations. While he designed Broadway and Hollywood sets, his existing public artwork are murals in the Carlyle Hotel in New York City. The bar has been named "Bemelmans" in his honor.
Readers young and old alike should visit or revisit Bemelmans books.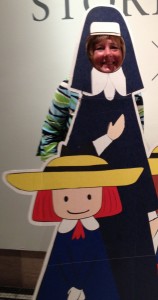 Madeline exhibit at the New York Historical Society.
*Author biographical information taken from the Madeline website.