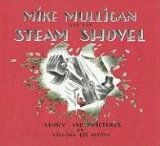 While today's children may have never seen a steam shovel, or a tractor who pushes a plow, they still respond to the humanity and artwork in Virginia Lee Burton's books. Mike Mulligan and His Steam Shovel and Katy and the Big Snow may be books who feature a technology from the past, but today's children still identify with their engaging stories.
Much of the charm of Virginia Lee Burton's stories is her artwork that she combines with them. Her use of watercolor, ink, and graphite in many of her books demonstrates her talent. Yet, her publisher also allowed her to design all of her book that not only included the illustrations, but also the choice of typeface and use of space.
Burton's roots are local as she was born in Newton, MA, although she moved to California when she was 8 years old. When she was 21, she returned to Boston and met her future husband in a drawing class at the Boston Museum School at the Museum of Fine Arts. After raising two sons, Virginia founded a textile collective called the Folly Cove Designers on Cape Ann. The designers' linoleum block print designs received national accolades. That legacy also still remains as a testimony to her talent.
We'll continue to share Virginia Lee Burton's talent and storytelling. Whether it's the predicament in which a small cottage finds itself with The Little House or a train engine who takes off on its own in Choo Choo: The Story of a Little Engine Who Ran Away, or people having their voices heard in our democracy in Maybelle the Cable Car, the tales and art still delight adults as much as children.