No, I'm not writing about The Grammy Awards or the The Oscars. The most exciting event in the world of children's literature is the annual announcement of the Caldecott Award and the Newbery Award. This past Monday wasn't just Groundhog Day, it was also when the American Library Association announced the 2015 Caldecott and Newbery winners and honor books.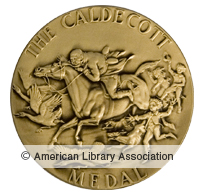 The Caldecott Medal was named in honor of nineteenth-century English illustrator Randolph Caldecott. It is awarded annually by the Association for Library Service to Children, a division of the American Library Association, to the artist of the most distinguished American picture book for children.  (From the ALA webpage)
It was a banner year for picture books in 2014, and the Caldecott Committee named the winner and chose 6 honor books. 6 honor books!
The Caldecott 2015 winner is The Adventures of Beekle: The Unimaginary Friend by Dan Santat (Little, Brown 2014). Many children go through a stage of having an imaginary friend, and Santat's story celebrates the joy a young child may have with this special friend. Beekle helps Alice to be brave and venture into the world of real friends, which was previously "unimaginable".
The honor books are:

Nana in the City, written and illustrated by Lauren Castillo ( Clarion Books)
The Noisy Paint Box: The Colors and Sounds of Kandinsky's Abstract Art, illustrated by Mary GrandPré, written by Barb Rosenstock (Alfred A. Knopf)
Sam & Dave Dig a Hole, illustrated by Jon Klassen, written by Mac Barnett (Candlewick Press)
Viva Frida, illustrated and written by Yuyi Morales ( Roaring Brook Press)
The Right Word: Roget and His Thesaurus, illustrated by Melissa Sweet, written by Jen Bryant ( Eerdmans Books for Young Readers)
This One Summer, illustrated by Jillian Tamaki, written by Mariko Tamaki (First Second)