In recent years, publishers have featured many picture book biographies that bring to life historical characters that are unknown to today's children. Two fine examples of these feature women of color who faced hardship and prejudice because of their race and gender. Both women had extraordinary talent.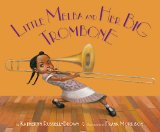 Little Melba and Her Big Trombone by Katheryn Russell-Brown, illustrated by Frank Morrison (Lee & Low) introduces young readers to Melba Doretta Liston (1926-1999). Melba's story is so inspiring that it seems to be fiction. When she was seven, Melba wanted to sign up for music class at school. Music was already a part of her soul, as she listened to the radio and dreamed of rhythms. She convinced her mother to buy her a trombone at the traveling music store, and Melba went home and began to practice. Even though her arms were barely long enough, Melba taught herself how to play the large and difficult instrument. By the time she was eight, she played a solo on a local radio station. When Melba and her mother moved to Los Angeles, she played with a famous after-school music club, The Melodic Dots. Her talent continued to grow, and after high school, Melba wrote her own music and joined touring bands. When she traveled to perform in the South, as a person of color, Melba faced the prevailing conditions of racism. Band members were denied hotel rooms and couldn't eat in restaurants. Undaunted, Melba kept performing, and by the 1950s, she and her music were in high demand by jazz musicians worldwide.
Josephine Baker  (1906-1975) was a talented singer and dancer who also battled prejudice that was almost insurmountable. Josephine by Patricia Hruby Powell, illustrated by Christian Robinson (Chronicle) chronicles this amazing woman's struggles in the United States and triumphs in France. Even though she became one of the highest paid performers on Broadway, Josephine played roles that fit a stereotype for performers of color. She was feted so widely in Europe that 20,000 mourners lined the streets of Paris for her funeral procession.
Josephine Baker