Steve Jenkins continues to inspire readers with his non-fiction books. As I share his work with students, I talk about him as both an author and illustrator. It's tempting to say that his illustrations are the stars of all of the titles, but that would do an injustice to the informative and insightful text.  On his website, Jenkins describes his childhood and student years that explains why he is so talented in writing and illustrating.
My father, who would become a physics professor and astronomer (and recently my co-author on a book about the Solar System), was in the military and, later, working on science degrees at several different universities. We moved often. I lived in North Carolina, Panama, Virginia, Kansas, and Colorado. Wherever we lived, I kept a menagerie of lizards, turtles, spiders, and other animals, collected rocks and fossils, and blew things up in my small chemistry lab.
Because we moved often, I didn't have a large group of friends, and I spent a lot of time with books. My parents read to me until I could read myself, and, up until the time I discovered girls in high school, I was an obsessive reader.
My interest in science led me to believe that I'd be a scientist myself. At the last minute, I chose instead to go to art school in North Carolina, where I studied graphic design.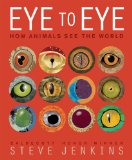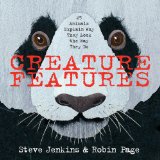 It's difficult to choose a favorite title by this prolific author/illustrator. Two recent additions to our school collection are Eye to Eye: How Animals See the World (Houghton Mifflin Harcourt, 2014) and Creature Features (Houghton Mifflin Harcourt, 2014).
(Picture of Steve Jenkins from his website)