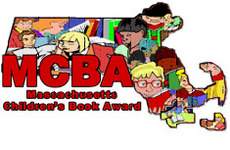 Twenty-two of our fourth and fifth graders celebrated reading at this week's Massachusetts Children's Book Award voting party. In order to participate in this voluntary reading incentive, our requirement for the children was that they had to read at least six of the nominated books. While they didn't vote with us, the sixth graders have been reading many of the titles as part of their English class. The more books the children read, the better they were able to discuss the strength of the plots of the books. Four children read all twenty-five titles on the list. There was a spirited discussion of the merits of many of the titles. It was energizing to hear the girls and boys recommend the books to each other, as well as comment on similar books or other books by the authors under discussion.
The clear winner was Capture the Flag by Kate Messner (Scholastic, 2012). In this contemporary mystery, three seventh graders, who never met previously, join forces when they learn that the flag that inspired The Star-Spangled Banner is missing from The Smithsonian. Anna, Jose', and Henry team up to try to find this important piece of Americana. When they are snowed in at the D.C. airport, they begin a quest that opens their eyes to more than they expected.
The children also voted for "honor books". These were other books that also received top votes or might have been a second favorite book. DCD's honor books are The Familiars, Liar and Spy, and The Son of Neptune.
The Familiars by Adam Epstein (Harper Collins, 2010) is a magical fantasy about an ordinary cat that is mistakenly chosen as a young wizard's pet. The alley cat joins forces with a blue jay and tree frog that have supernatural gifts. They form an alliance to rescue their owners.
Liar and Spy by Rebecca Stead (Wendy Lamb Books, 2012) is another story about a new friendship that is developed between two very different seventh graders. They track a mysterious man who lives in their Brooklyn apartment building.
Rick Riordan continues to be a favorite author with The Son of Neptune (Disney, 2011). After many read this volume in The Heroes of Olympus Series, they discussed the strengths and weaknesses of various Greek and Roman gods and their half-blood children.
We look forward to the results of the statewide voting which will be released in a few weeks.