There have already been a number of quality books published in 2015 for our intermediate and young adult readers. Two of my latest favorites are Echo by Pam Munoz Ryan (Scholastic, 2015) and Stella by Starlight by Sharon Draper (Atheneum Books for Young Readers, 2015). These books are each challenging with their content and intriguing with their plots.
Echo is a difficult book to describe because it shifts back and forth from fantasy to reality. In a mysterious and forbidden forest, a man meets three strange sisters who deliver a prophecy, a promise, and a harmonica. That harmonica is intertwined within three other stories. Readers will be drawn to the challenges that Friedrich in Germany, Mike in Pennsylvania, and Ivy in California face during different time periods. This is a long book with 592 pages, and readers will be so engrossed in the plot that they will be disappointed to have it end.
Pam Munoz Ryan speaks about her writing and another of her books, The Dreamer, in this video.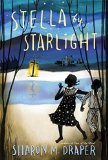 Stella by Starlight is realistic fiction that challenges readers to face the realities of racism in the United States. The main character lives in Bumblebee, North Carolina, in the heart of the segregated south. In this Depression Era story, the Ku Klux Klan are making a reappearance and terrorizing many in the area. Sharon Draper talks about her inspiration for her latest book.
***On an unrelated note, "Stella by Starlight" is also the name of a 1940s jazz classic. To hear Miles Davis perform it, check out this video.