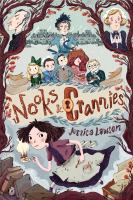 It's always a happy time for me when I discover a new author to share with students. Jessica Lawson is my latest "find", and I've been recommending her latest book, Nooks & Crannies (Simon & Schuster).
In the beginning chapters of Nooks & Crannies, I thought that I knew the formula that Lawson was following for the plot. The setting is London in the early 1900s, and six children received an invitation from the Countess of Windermere to spend a weekend at her "magnificent and secluded home". Hmm…that was sounding like Roald Dahl's Charlie and the Chocolate Factory or the more recent Escape from Mr. Lemoncello's Library by Chris Grabenstein. I predicted that the most deserving child would be recognized by the generous benefactor. The author soon surprised me with an early twist in her plot by introducing a rather nefarious Countess.
As I continued into the story, Nooks & Crannies began to remind me a bit of an Agatha Christie mystery for our middle readers. The heroine is an eleven year-old girl, Tabitha Crum, whose parents have arranged to put her in an orphanage as soon as the weekend is over. Because of their neglect, she had to fend for herself, and her only friend and confidant is Pemberley, a mouse. Once at the estate, Tabitha and the other children learn that one of them may be an heir to a fortune. Not everything is as it appears to be though, and Tabitha soon has questions about the Countess and her knives, a sick old lady, secret passageways, and mysterious happenings.
This novel is great fun, and I look forward to reading Lawson's previous book, The Actual & Truthful Adventures of Becky Thacher which is a take-off of Mark Twain's The Adventures of Tom Sawyer. Let's hope that Lawson will have many more books in the future.