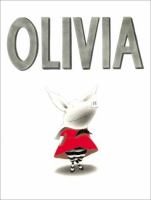 When I was a child, there was a common joke, "What's black and white and red all over?" The answer, of course, was "a newspaper" because of the play on the word red/read. Once we knew this answer, we learned other answers like "an embarrassed zebra" or "a sunburned penguin". Today's children probably wouldn't come up with the old answer of a newspaper, but they might answer that a book can be black and white and read all over. After all, many of our older children grew up enjoying the picture books about Olivia by Ian Falconer. The illustrations in Olivia are black, white, and grey with splashes of red. Parents and children loved the little pig that enjoyed fashion, opera, and ballet. Falconer's book was commended as a Caldecott Honor Book the year it was published.
Today's young children have two books that are also black and white and will be read all over, The Book With No Pictures by B.J. Novak (Dial) and The Skunk by Mac Barnett, illustrated by Patrick McDonnell (Roaring Brook Press). These books are entirely different, but they are both winners during story time. The Skunk is a quiet book that sneaks up on the reader, just like the skunk who follows a man around all day. We don't have a name for the man, but he tells us his tale in the first person. The illustrations are almost all in black and white with a touch of red, especially in his tie and the skunk's nose. The charming twist at the end brings about some great discussion among the children. This author illustrator team are certainly a dynamic pair.

There is no discussion, just outright laughter, when I read The Book With No Pictures to children. The illustrator did use color to accentuate the silly words and phrases while the readers normal voice is depicted in black and white. It doesn't matter how many times a child hears this book, they want to hear it again and again and again.
So…What's black and white and read all over? My answer is "A GOOD BOOK"!