Readers of all ages enjoy holiday picture books. Even our most sophisticated and older readers want to revisit old favorites and check out new titles.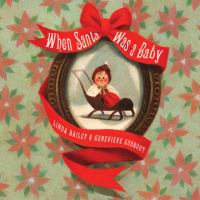 When Santa Was a Baby by Linda Bailey & Genevieve Godbout (Tundra, 2015) has become one of this year's favorites. Santa's parents are like all parents because they think that their new baby is very special. When his first baby sounds are Ho! Ho! Ho!, they are surprised. Santa continues be unique when he gives away his presents, only wears red, and has a special friend who enjoys making toys. This is a fun title to pair with Santa Retires by David Biedrzycki (Charlesbridge, 2012).
Doreen Cronin has partnered with illustrator Betsy Lewin to bring us back to the zany farm that she has featured in other books. (Click, Clack, Moo being the most memorable.) This time, the animals try to rescue the crazy duck that gets stuck in the chimney just before Santa arrives in Click, Clack, Ho! Ho! Ho! (Atheneum, 2015)
An older title for which I've been having a number of requests is Snowmen at Christmas by Caralyn Buehner, illustrated by Mark Buehner (Dial, 2005). This talented husband and wife team describe a celebration by the snowmen on Christmas Eve, when all of the people are asleep.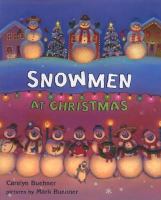 Such fun snowmen have!
But there's still one more thing –
With hearts full of joy
They hold hands and they sing.
While the fiddler plays,
And sweet silver bells ring,
They sing songs about snow,
And the birth of a King.