Every two years, the Librarian of Congress selects an author to be the National Ambassador for Young People's Literature. The author serves a two-year term and uses his/her position as a platform to speak and write about lifelong literacy, education, and using books and reading for personal growth. There are very specific guidelines used by the selection committee when they choose an author. The National Ambassador for the next two years is Gene Luen Yang.
Yang was born in California, and his parents are Chinese immigrants. His background is noteworthy because Yang draws on his family experiences in his work. The seeds for his writing and art began when he was in elementary school. He began drawing comics then, and he wrote his first comic book in fifth grade. On his website, Yang said, "Nowadays any kid can make a movie, but back then, it was impossible for a ten year old to make a movie, but a ten year old could make a comic book." The fact that Yang writes graphic novels is also an important aspect of his nomination.
When he was interviewed after the announcement of his appointment was made, Yang said, "Every ambassador picks a platform, so some kind of issue that they want to talk about, and a phrase that sums up that issue. My phrase is 'Reading Without Walls.' " The theme aims to encourage young people to read books that scare them. The author continued, "We want kids to read outside of their comfort zone, to pick a book with somebody on the cover who doesn't look like them, to pick a book about a topic they previously found intimidating."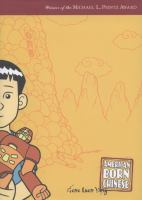 His book American Born Chinese won the Printz Award from the American Library Association for best young adult book in 2007. Boxers & Saints was a finalist for the National Book Awards. Yang's most recent project is a graphic novel series, Secret Coders, which not only tells a story but also teaches children about computer coding.