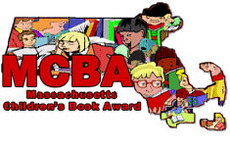 And the DCD winners are…
What a celebration of books and reading we had this week at school! Thirty-five fourth and fifth graders participated in the Massachusetts Children's Book Award reading program this year. Eleven students read all of the twenty-five books that were nominated.
The discussion was spirited, and when the voting was finished, there was a tie for the best book between The Land of Stories: The Wishing Spell by Chris Colfer and Escape from Mr. Lemoncello's Library by Chris Grabenstein. In The Land of Stories, twins enter a magical world of fairy tale characters through a special book. Grabenstein tells the story of a group of children who stay overnight in the new town library designed by Luigi Lemoncello, a master puzzle maker in Mr. Lemoncello's Library. They form teams to solve his master puzzle.
Our discriminating readers chose four other books as their favorites:
Kizzy Ann Stamps by Jeri Watts
The One and Only Ivan by Katherine Applegate
Honorable Mention: Rump: The True Story of Rumpelstiltskin by Liesel Shurtliff and Counting by 7s by Holly Goldbery Sloan
It will be interesting to learn the statewide voting results later this month.