July 28th will be the 150th anniversary of Beatrix Potter's birth. Many events are scheduled in Great Britain and the United States to celebrate her life.
Beatrix Potter, one of the world's most famous storytellers, is celebrated in a new biography for our youngest readers. Beatrix Potter and Her Paint Box was written and illustrated by David McPhail (Henry Holt, 2015). The author/illustrator used watercolor and ink on illustration board for the delightful artwork that is reminiscent of Potter's own art.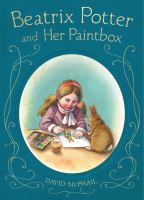 McPhail's spare text begins by describing what life was like for children during the 19th century when nannies and tutors worked for wealthy families. The children sometimes spent a great deal of time exploring on their own. Beatrix was given her mother's paint box when she was young, and the girl made her own sketchbooks out of paper and string. From the beginning, Beatrix drew and painted animals and scenes from nature. While she was given formal painting lessons, she preferred to paint in her own style, so the tutoring was stopped. As an adult, Miss Potter wrote and illustrated a story about a rabbit for the son of a friend who was sick. Remembering her own time of convalescence from an illness when she was a child, Beatrix sent along her little story to cheer him. The child's mother encouraged the artist to publish her book, and The Tale of Peter Rabbit became a gift to all children.
There are many, many books written for children and adults about this remarkable woman. McPhail's just happens to be the latest biography written for beginning readers. It is a natural companion to Potter's own tales of Peter Rabbit, Benjamin Bunny, Jemima Puddle Duck, and so many other delightful characters. Fair warning…adults who share Miss Potters tales and biography with their children, just may become immersed in her world. The numerous adult biographies and books about her home and gardens are tantalizing. Two of my adult favorites are At Home with Beatrix Potter: The Creator of Peter Rabbit by Susan Denyer (Frances Lincoln, 2009) and Beatrix Potter's Gardening Life: The Plants and Places That Inspired the Classic Children's Tales by Marta McDowell (Timber Press, 2013).