…But tomorrow may rain, so I'll follow the sun.   – The Beatles
As a baby boomer, I enjoy sharing my memories of growing up and the music that I enjoyed and still enjoy with children. They have a vague concept of a band named The Beatles, but few know anything about the "Fab Four" or their songs.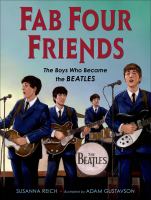 Two recent additions to our collection should intrigue intermediate and middle school readers. Fab Four Friends: The Boys Who Became the Beatles by Susanna Reich, illustrated by Adam Gustavson (Henry Holt) is a picture book biography and a fine introduction to the early lives of John, Paul, George, and Ringo. The young men had much in common, growing up in Liverpool, England and finding escape in music.
A more sophisticated and more comprehensive title is How the Beatles Changed the World by Martin W. Sandler (Bloomsbury). There are many black and white and color photographs throughout the book that chronicles the rise of one of the most influential musical groups in history.