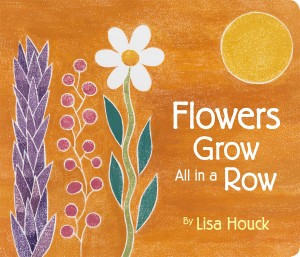 One of our talented art teachers, Lisa Houck, has produced a colorful board book for toddlers and young children, Flowers Grow All in a Row
(Pomegranate Kids). The rhyming text compliments the bright illustrations that are made from white-line woodcuts. Working in this method is one of Lisa's specialties, and she teaches it to our middle school students, as well as to adults in different venues. With traditional woodblocks, the artist cuts away the area around the drawing, and that cut away area becomes negative and does not accept the paint or ink. In white-line woodcutting, the outline of the design is cut or grooved which leaves a white line between the designs that accept the color. Flowers Grow All in a Row is a counting book illustrated with whimsical flowers.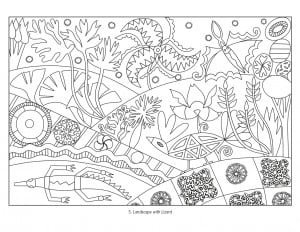 Lisa has also published a fun coloring book entitled Bright World (Pomegranate Kids). Both children and adults may enjoy this coloring book. Anyone who has discovered the peace that comes from coloring can recreate the colors that Lisa used in her illustrations or try their own combinations. If you know a child or adult who loves to color, Bright World would be a gift for them. Bright World and Flowers Grow All in a Row will be available to purchase at our book fair.