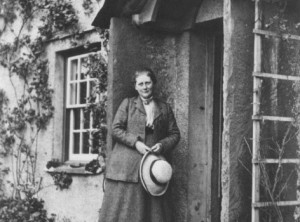 One of the world's most beloved author/illustrators, Beatrix Potter, was born on July 28, 1866. There have been numerous events this year to celebrate the 150th anniversary of her birth.
(Photo of Miss Potter taken from The National Trust & Frederick Warne Ltd.)
Beatrix and her brother, Bertram, were born to privilege, as their parents were quite wealthy. When they were growing up, they associated with few children of the same age as governesses educated them. However, they were encouraged to explore the natural world, especially during the summer on holidays, first in Scotland and then in the Lake District of England. It was here that Beatrix blossomed and recorded her observations of life.
One of Beatrix's governesses was only three years older than her, and Annie Moore Carter acted as a lady's companion to her. Annie and Beatrix became lifelong friends, and Miss Potter wrote entertaining letters illustrated with sketches to Annie's children. In 1893, while she was on holiday, Potter composed a story to Annie's son Noel, who was ill. She wrote about "four little rabbits whose names were Flopsy, Mopsy, Cottontail and Peter." This letter was the basis for Potter's most famous book, The Tale of Peter Rabbit.
This talented artist, naturalist, and author went on to become a landowner, farmer, and conservationist in the Lake District. She purchased large plots of land to preserve the area. Her donation of her property to the National Trust is now included in the Lake District National Park.
One of her unpublished stories, The Tale of Kitty-in-Boots, which was written in 1941, is being published this month. The illustrations are by Quentin Blake, a contemporary British illustrator, who has written many children's books.
As part of the celebration of her life, Penguin Random House commissioned street artist Marcus Crocker to give Potter's characters a modern makeover. At first I was "put off" by this modernization, as I considered it a bit sacrilegious to mess around with Peter Rabbit, Mr. Jeremy Fisher, Jemima Puddle-Duck, Squirrel Nutkin, Mrs. Tiggy-Winkle, and Mrs. Tittlemouse. However, in reading about the new Potter figures, I found it interesting.
"The reimagined small versions of the familiar characters reflect the diminutive dimensions of the original Peter Rabbit stories, whilst some also contain a nod to Beatrix Potter's varied accomplishments as a Conservationist; Botanist; Businesswoman; Artist; Storyteller all of which made her a woman ahead of her time… The figures were carefully crafted to ensure continuity with not only the characters' own personality traits, but in some cases those of their original creator, in contemporary and surprising ways."
(https://vimeo.com/168933897)