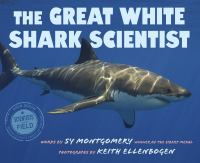 The estimated number of sharks (about 500 species) worldwide is 7 billion.
The estimated number of humans (just one species) worldwide is 7 billion.
The average number of people killed by sharks of all species yearly, worldwide is about 11.
The number of sharks of all species killed by people yearly, worldwide is 100 million.
(Information taken from The Great White Shark Scientist)
Living along the East Coast, and especially in Massachusetts, we often hear about great white shark sightings. During our warmer months, there are often advisories that there have been shark sightings off of Cape Cod, especially near Chatham's and Orleans' beaches.
Sy Montgomery, a talented non-fiction writer, has chronicled the latest research about great whites in her newest book, The Great White Shark Scientist (HMH). Photographs by Keith Ellenbogen complement her text, and she brings her knowledge to life for her readers.
While we usually fear sharks, and great whites especially, Montgomery supplies some interesting information that puts these fears into perspective. Some of her facts are given with a bit of humor.
Number of Americans killed by shark bite between 1984 and 1987: 4
Number of New Yorkers bitten by humans during same period: nearly 1,600
"The Atlantic White Shark Conservancy (AWSC) was established to support white shark research and education programs to ensure that this important species thrives."  There is a shark center in Chatham where children and adults can learn more about this special species.