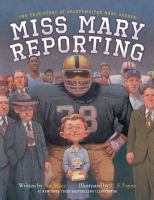 It has become commonplace to see women as sports reporters on television or covering sports on the Internet in 2016. This is a fairly recent occurrence though. Contemporary female professional sports writers and commentators owe a debt of gratitude to Mary Garber (1916-2008), a pioneer in that field. Miss Mary Reporting by Sue Macy, illustrated by C. F. Payne (Simon & Schuster Books for Young Readers) is a picture book biography that brings Mary to life.
Mary Garber's family moved from New York City to Winston-Salem, North Carolina when she was eight years old, and Winston-Salem was Mary's home for the rest of her life. Growing up, Mary enjoyed many sports, especially tackle football with the boys. As a youngster, she was the quarterback for the Buena Vista Devils, known as the BVDs. In school, she played softball and tennis, two sports where it didn't matter that she was only five feet tall and under one hundred pounds. Her father took Mary and her sister to many athletic events, and he made sure that they understood all of the rules of the games.
After college, Mary knew that she wanted to be a reporter, although her first assignment was as a society reporter and then a general news reporter. During WWII, she began covering sports when all of the men enlisted. After the war, there was a year that she went back to general reporting, but after that brief interlude the sports beat was hers. There were many obstacles that Mary had to overcome just to do her job. Jackie Robinson became a role model for her. While he was facing taunts and jeers, he remained dignified and kept silent. The discrimination that she faced as a woman in a field of men didn't match the prejudice that Robinson experienced, but Mary and Jackie were both breaking stereotypes. (Photo from Wikipedia)
During her career, Mary had to fight for admittance to press boxes, stand outside of locker rooms, be ignored by coaches, and even once sew a tear in a basketball players uniform because she was a woman. Along the way coaches began to admire her determination, and readers enjoyed her insights. One of her most significant accomplishments was her advocacy for fighting segregation. She began reporting on games played in Winston-Salem's all-black schools. No reporter had ever done that. Mary said, "It seemed to me that black parents were as interested in what their kids were doing as white parents were." Mary cared.
The Mary Garber Pioneer Award is given annually by the Association For Women in Sports Media.