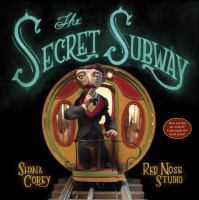 Readers, both children and adults, can learn some amazing facts from books that are published primarily for children. An interesting example of this is The Secret Subway by Shana Corey, illustrated by Chris Sickels of Red Nose Studio (Wade Books). While I'm wary of using too many superlatives when I write about books because they can be overused, this book is a true original. The subject is little known to most people, and the illustrations are very unique.
Alfred Ely Beach was a dreamer and an inventor in the 1860s. He was also a publisher whose father owned a newspaper, and most importantly, he was a man of action. Beach imagined building a train powered by an enormous fan underground where there was no traffic. At first, he was denied the permits from the city. So, he proposed a mail tube instead. He got Boss Tweed, New York City's powerful and unofficial mayor to approve of his plan, so the actual city offices agreed to his construction.
Beach secretly moved out all of his excavated materials at night so that no one would question the enormity of his project. He turned his underground tunnel into a tourist attraction. It was later closed when Boss Tweed rewarded his friends with building more transports underground.
The talented illustrator, Chris Sickels, develops his art as Red Nose Studio. He tells stories through puppets and animation.
I just have to share two videos. One is about Alfred Ely Beach and his underground invention. The other is a clip that shows Chris Sickels' work on The Secret Subway. Both videos have the same opening picture, but they are different.